About Our Auto Service, Vehicle Repair and Maintenance Company
Marshall's Service Center is conveniently located in Scottsdale and has been helping drivers keep their vehicles on the road from the same location since 1993. We offer a full range of automotive repair and maintenance services, combining high quality work with superior customer service. Our staff is dedicated to meeting your needs and they will work on your vehicle as if it was one of their own.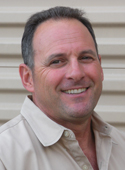 Marshall Gerston,
Owner
Marshall has owned Marshall's Service Center since 1993. He graduated with a bachelor's degree in business from Arizona State University. He is ASE Master Certified and is always updating his training and knowledge on the latest automotive repair techniques. Marshall's is AAA approved and is proud to have won AAA's prestigious "Top Shop" award for the past 11 years. Marshall's Service Center is a member of the Better Business Bureau in which they are always in good standing, where Marshall sits on the BBB Auto Repair Advisory Committee. Marshall has lived in Scottsdale since 1970. He resides here with his wife and three children. He prides himself on quality professional workmanship, and top-notch customer service. When not running his shop, Marshall loves to competitively race his dirt bike and has won numerous racing competitions, even in his middle age!
Marshall's Auto Repair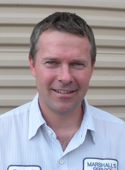 Patrick Murphy
Service Manager
Patrick has lived in the valley of the sun since 1979. He grew up working at his parent's service facility since he was 10 years old. Pat has been our service manager since 1997. He is a journeyman mechanic who on many occasions has grabbed tools himself to help a fellow technician sort out a difficult repair. Pat truly has a gift for dealing with customers in a caring and honest manner. He's an expert at explaining the details of the repair in a way that the untrained person can understand. Along with his ASE certification, Pat is always attending classes to extend his mechanical automotive expertise. Besides playing golf in his spare time, Pat enjoys camping and riding ATVs with his family. Warning: If Pat doesn't know you are coming, you may just happen to sneak up and hear his loud singing at the front desk!!!
Marshall's Auto Repair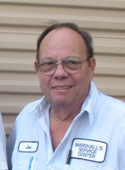 Joseph "Joe T" Temarantz,
Assistant Service Manager
Joe T has over 50 years of experience in the automotive business, starting off as a journeyman technician for many years. He moved to Arizona in 1980 from Long Island. Joe relocated to Marshall's in 2004 after working at the local Chevron station for 15 years. Being that Joe is a local resident, he brought along a lot of his neighbors as well as his many loyal customers. Joe's knowledge of all types of vehicles is second to none. Along with all the "on the job" training, Joe is ASE certified and always continues his mechanical education with specialized classes. Joe married his sweetheart in 1970 and on his time off, he loves to spend time with her, his children, and grand children. He also loves to play Texas hold 'em on the computer and would never turn down a beer!
Marshall's Auto Repair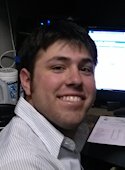 Matt Kirwan
Service Advisor
Born and raised in northern California, Matt is our youngest employee. After attending automotive repair classes in high school and graduating he immediately jumped on a plane with his family and moved to Arizona. He graduated with an associates degree in Automotive Technology from Glendale Community College and has worked in the automotive business ever since, mostly as a mechanic. Matt's knowledge and easy going calm attitude with people helped him zealously take on the challenge of becoming a service advisor. In his spare time, he enjoys target shooting, riding his motorcycle, and hanging out with his girlfriend.
Marshall's Auto Repair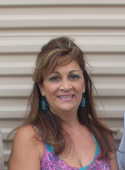 Suzie Smith-Kiger
Service Advisor, Receptionist, Clerical Assistant, Taxi Driver, Errand Runner, Office Supplier, Appointment Taker, and anything else thrown at her... but she doesn't do windows!
In 1988, Suzie moved to Arizona after being born and raised on the beaches of southern CA. Suzie's automotive experience began in the early 1980's in car sales in Los Angeles. After five years at the same dealership, she became customer service manager for the dealer. In 1991, after 10 years in the automotive business, she became a nail technician, which is still her part-time occupation. After the recent slump in the economy, Suzie came back to her roots and joined our team in January of 2010. Being the only female among our team of men, Suzie adds a female touch while still keeping all the guys on their toes. She always pays attention to detail, making sure all of the T's are crossed and the I's are dotted. She does everything with a smile on her face and a fun loving attitude. She is a wife, mother of three, and a grandmother to one grandson. She loves to spend all her spare time with them along with jogging, rollerblading, water skiing, riding ATVs, sewing, playing piano, and reading.
Marshall's Auto Repair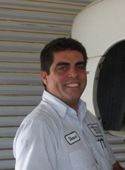 Shawn Robinson
ASE Master Certified Technician
Shawn has been with Marshall's Service center since 1995, the longest of all the technicians. He moved to Arizona in 1988 from Colorado. He received his automotive training from the Phoenix Institute of Technology in 1989. He came to us after working at a local service station. Shawn adds humor to the shop with his constant "ribbing" to his fellow colleagues. Shawn is always joking and smiling, even when a difficult repair stumps him. But he always digs his heels in and perseveres until the job gets done properly. He loves to figure out complicated electrical jobs or wiring diagrams. No job is too tough for Shawn. He is ASE Master certified and is always continuing his education, taking specialized classes on the latest automotive technology. During his spare time, Shawn loves to ride ATVs and hang out with his family and friends.
Marshall's Auto Repair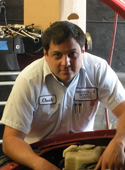 Charles "Chuck" Durham,
ASE Certified Technician
Originally from Florida, Chuck is another who came to us from the local Chevron that closed shop. He's been with us since 2004 and has been a technician since 1998. Along with being ASE certified, Chuck has certification in Bendix Brakes, tire training, Advanced ABS training, and is an AC/Delco electrical master. There is never a job that Chuck can't tackle with his "I can do it all" attitude. He welcomes a challenge. As with all our other technicians, Chuck is always continuing his automotive education. Chuck loves to spend time with his family, camping and riding quads. He even admits to liking to shop with his wife and two daughters!
Marshall's Auto Repair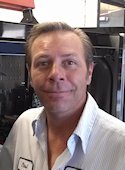 Paul Noble,
ASE Master Certified Technician
Originally from Grand Junction, Colorado, Paul attended Automotive Technology courses in high school for 2 years where he graduated early. In 1988 he moved to Phoenix and attended Phoenix Institute of Technology. He has worked as a technician in the valley for 24 years and has been ASE Master Certified since 2000. His hobbies include shooting air soft guns, dirt biking, target/marksman shooting, any water sports, or power sports including scuba diving and cliff jumping.
Marshall's Auto Repair
Automotive Service Excellence
We are very proud to offer a staff that includes ASE Master Certified Technicians. ASE stands for Automotive Service Excellence, and requires extensive knowledge of vehicle repair and service. Once an individual has gained sufficient education and experience they can apply to take a test that certifies them as an ASE Certified Technician. ASE Certifications are good for four years, then an updated test must be taken and passed to be re-certified for an additional four years. An ASE Master Certified Technician has taken and passed the required tests on eight automotive areas:
Engine Repair
Automatic Transmission/Transaxle
Manual Drive Train and Axles
Suspension and Steering
Brakes
Electrical and Electrical Systems
Heating and Air Conditioning
Engine Performance
Our ASE Certified Technicians and Master Certified Technicians have proven themselves in the automotive repair and service industry. We screen our candidates carefully and employ only the best technicians to work on your vehicles never sacrificing quality for quantity.
Marshall's also offers rental cars on-site through the Xpress Rent a Car Network.