About Our Auto Service, Vehicle Repair and Maintenance Company
Marshall's Service Center is conveniently located in Scottsdale and has been helping drivers keep their vehicles on the road from the same location since 1993. We offer a full range of automotive repair and maintenance services, combining high quality work with superior customer service. Our staff is dedicated to meeting your needs and they will work on your vehicle as if it was one of their own.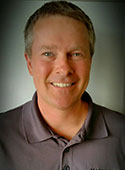 Patrick Murphy
Owner
Patrick has lived in the valley of the sun since 1979. He grew up working at his parent's service facility since he was 10 years old. Pat started as Marshall's Service Manager in 1997, and became Owner in 2013. He is a journeyman mechanic who on many occasions has grabbed tools himself to help a fellow technician sort out a difficult repair. Pat truly has a gift for dealing with customers in a caring and honest manner. He's an expert at explaining the details of the repair in a way that the untrained person can understand. Pat is ASE certified and is always updating his training and knowledge on the latest automotive repair techniques. He prides himself on quality professional workmanship, and top-notch customer service. Pat resides here with his wife and two children. When not running around the shop, Pat loves to play golf, spending quality time with his family at the lake or riding quads, and cheering on his kids in their various sporting events.
Marshall's Auto Repair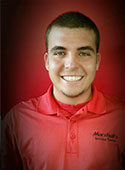 Leo Robinson
Service Advisor
Born and raised in Arizona, Leo is our newest employee. He came to us in November of 2015. Before coming to Marshall's he worked at an independent shop for two and a half years turning wrenches. Along with his big smile, Leo treats our customers to some good old fashioned customer service from walking customers to their cars, to opening up car doors for our female clientele, Leo is the kind of service manager that puts the customer first. Leo enjoys four wheeling in his jeep and camping with his friends and family and pulling pranks on his fellow employees.
Marshall's Auto Repair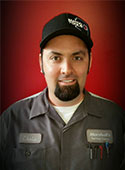 Chris Cantore
Service Advisor, Mechanic
Chris has been with Marshall's Service center since 2012. Originally from Chicago, Illinois, Chris moved to Arizona in 2000. He graduated from the Universal Technical Institute in 2003, specializing in Automotive and Diesel repair. Chris is our go-to employee, getting whatever job done that is needed. He can be in the front office assisting customers or in a bay doing oil changes, brake and ABS repairs, engine repairs, steering, suspension, alignments, and drivability repairs. In his spare time, Chris likes to fish, camp, fish, watch ice hockey, fish and did we say FISH!??
Marshall's Auto Repair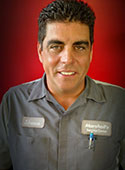 Shawn Robinson
ASE Certified Master Technician
Shawn has worked at Marshall's the longest of everyone, since 1995. Originally from Colorado, Shawn moved to Phoenix in 1988. He attended Phoenix Institute of Technology in 1989. He worked at a local shop before coming to Marshall's. Shawn loves figuring out complicated jobs. He feels they are like fun puzzles. He is always continuing his education with specialized classes learning the latest automotive repair technology. In his free time he enjoys his two beautiful granddaughters, riding his ATV, camping, or taking his boat to Lake Pleasant for water sports with his family.
Marshall's Auto Repair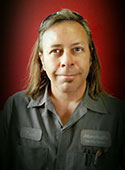 Paul Noble
ASE Certified Master Technician/Advanced Level Engine Performance Specialist
Paul attended automotive technician courses in high school in Grand Junction Colorado where he graduated early. He moved to Phoenix in 1988 and attended Phoenix Institute of Technology. He's worked in the valley ever since as a Master Certified ASE technician. Paul is always continuing his education and specializes in engine performance and also Air Conditioning Essentials. In his free time Paul likes shooting air soft guns, marksman shooting, dirt biking, quad riding, all water sports, scuba diving and cliff jumping.
Marshall's Auto Repair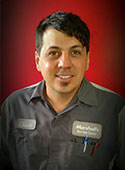 Charles Durham
ASE Certified Technician
Originally from Florida, Chuck has been a technician since 1998. He came to Marshall's after working at a local Chevron that closed shop. Along with being ASE certified, Check has taken specialized classes in Bendix Brakes, AC Delco master electronics, and air conditioning essentials. As with all our other technicians, Chuck is always continuing is automotive education. He has three beautiful grandchildren, and loves riding quads, boating, target shooting, playing video games, four wheeling and camping with his family.
Marshall's Auto Repair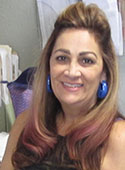 Suzie Kiger
Office Manager
Suzie is our only female at Marshall's. Being the eldest employee she's like the mama around here. Suzie has worked at Marshall's since January 2010. Her automotive experience started in 1982 selling cars in Los Angeles then becoming a service advisor. In 1988 she moved to Arizona. Suzie mostly handles all office duties, including payroll and bookkeeping and running our on-site rental car business. She jokes that she does everything but clean windows here. In her spare time she loves to spend time with her family and grandson driving their RZR, or her quad, or wake boarding at the lake. She also enjoys working out, running half marathons, playing piano and hanging out at the casino.
Marshall's Auto Repair
Automotive Service Excellence
We are very proud to offer a staff that includes ASE Master Certified Technicians. ASE stands for Automotive Service Excellence, and requires extensive knowledge of vehicle repair and service. Once an individual has gained sufficient education and experience they can apply to take a test that certifies them as an ASE Certified Technician. ASE Certifications are good for four years, then an updated test must be taken and passed to be re-certified for an additional four years. An ASE Master Certified Technician has taken and passed the required tests on eight automotive areas:
Engine Repair
Automatic Transmission/Transaxle
Manual Drive Train and Axles
Suspension and Steering
Brakes
Electrical and Electrical Systems
Heating and Air Conditioning
Engine Performance
Our ASE Certified Technicians and Master Certified Technicians have proven themselves in the automotive repair and service industry. We screen our candidates carefully and employ only the best technicians to work on your vehicles never sacrificing quality for quantity.
Marshall's also offers rental cars on-site through the Xpress Rent a Car Network.